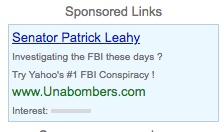 Michael Hren - Michael Hren worked at Apple Computer as manager of the Model Shop for Plastics Design for 10+ years. He also organized entertainment for the Apple Computer Campus for company wide bashes, meeting frequently with CEO John Sculley in that capacity.. (Tel circa 1992 408-974-1956, 985-0637, Possible Michael Frank Hren) Photo 02 Photo 04 Photo 06 Photo 12
Manifesto on Dettling's Computer in 1992
Dettling's ID of Manifesto as "Work of Fiction about a Serial Bomber"
Dettling's naming of Timber Lobbyist as a Future victim
Dettling's extensive excited recitation of fatal bombings
100 Sheets of carbon paper heavily xxxx'd out in Desk Drawer
FC Pin in Dettling's Desk Drawer
The Alps Photo of Dettling and his wife
Dettling's modeling of wigs as gay parody
Dettling's reaction to Hren's "Rays the Unabomber" statement We're emptied into Hallway
Dettling's Watch
A Terrorist Group called Fucking Cunts joke
Isopropyltrimethylmethane (Shit on Speed)
Road Hazard Bomb in Garage
Wooden Gear in Garage (Hren on Tape)
Shrapnel Damage in Band Room
Sean (Shawn?) (Possibly Collins)(20's) Assumed Deceased -Sean was a part time resident in the Bohlman Road property with his girlfriend Reann. He would periodically use tools and other items from the garage. Shawn had a tattoo, which said "Pure Wood" on his left arm. He stated that the tattoo was related to a furniture shop where he had worked. When he moved out of the residence, it was on very bad terms with Dettling. Dettling accused him of stealing tools from the Garage specifically including an oxyacetylene torch. In the late spring of 1993 Sean was involved in an auto incident in Palo Alto area where he ran from the scene. The auto involved may have been Reann's mustang. Sean is shown in a photo with Hren sitting in Dettling's garage during the wooden gear party. The individual with the SS# disappeared shortly after being interviewed by the FBI, but probably discussed the incident with friends. Sean had difficulty staying out of trouble for even a few months at a time. Assuming that the individual is Sean and he is still missing after 7 years...the circumstance of his disappearance would require closer examination for the possibility of foul play. If Sean connected the events and evidence he observed whilst "casing" the garage with Dettling during the FBI interview...??? In the spring of 1993 Sean was employed by a local tree cutter/firewood provider in Saratoga who owned property in Saratoga and was a regular at the Bank Bar. Photo 02 Photo 05
His Social Security Number may be the Unabomber ID
Road Hazard Bomb in Garage
Oxyacetylene Torch in Garage
Wooden Gear in Garage
Isopropyltrimethylmethane (Shit on Speed)
Dettling's Watch
Alps Photo of Dettling and wife
A Terrorist Group called Fucking Cunts joke
Shrapnel in Band Room
May have extensive knowledge of items in garage
Doug Gondor - Deceased Sept 29, 2000 (but not listed in SS death index)- Computer programmer, habitue of the Bank Bar, alcholic. He worked for Marcus Bryant for a short Time. Found dead of an unexpected Heart Attack at his families home the morning after a visit from Marcus Bryant. Marcus drove from Saratoga for a surprise visit in Grants Pass oregon within days of my conversaton with him. Officials cremated his body the same day against his parents expressed wishes, they were suspicious (Doug's sisters opinion, reasons unknown). No autopsy was done despite his parents explicit demand, the body was already cremated when they arrived at 3PM. Doug may have been attempting to report details to authorities following an extensive conversation with myself during which he recalled seeing Nighthawks and the "Shit on speed incident" among many other details. He was very exicted by the information I had provided him. I will always believe and regret that it was my phone conversation with a good friend that got him killed. Note-I also had a Heart attack in 1996 in Seattle Washington under circumstances which I consider to be highly suspect. The unidentified individual, whom I suspected of involvement, showed up again in the operating room (Capitol Hill Facility) while I was on the gurney in civilian clothes being shown around like a VIP by a supervising nurse.
Shrapnel in Band Room (Recording)
Nighthawks movie (watched with me and Dettling)
Road Hazard Bomb in Garage
Oxyacetylene Torch in Garage
Wooden Gear in Garage
A Terrorist Group called Fucking Cunts joke
Isopropyltrimethylmethane (Shit on Speed)
Doug examined FC Pin in Office.
Reann (Leanne) was Sean's girlfriend and a resident in the Bohlman Road property. She owned the mustang auto which may have been involved in Sean's auto incident. (She may have been from Lodi, Shawn may have been from Sacramento or Lodi). Possible associate of Jackie Miller.
Isopropyltrimethylmethane (Shit on Speed)
Dettling's Watch (Mickey Mouse)
Alps Photo of Dettling and wife
A Terrorist Group called Fucking Cunts joke
Shrapnel in Band Room
Dettling's Watch
Road Hazard Bomb in Garage
Oxyacetylene Torch in Garage
Wooden Gear in Garage
Jackie (Miller) Dick- (Carmel, Ca?) was a former friend of Dettling's and a former resident of the Bohlman Road property. Married John Dick, a patron of the Bank Bar who often argued with Dettling. John appears to have a poor memory and appears to recall little. Jackie's memory is quite sharp. While Jackie acknowledges a number of details (Nov 2000) she does not believe Dettling to be involved in bombings. (Note - This site presents corroborated factual details not conclusions, while the number of matching details is definitely troubling, by design conclusions are left to the reader)
Road Hazard Bomb in Garage
Oxyacetylene Torch in Garage
Wooden Gear in Garage
Isopropyltrimethylmethane (Shit on Speed)
Dettling's Watch
Alps Photo of Dettling and wife (Recorded)
A Terrorist Group called Fucking Cunts joke (Recorded)
Shrapnel in Band Room (Recorded)
Nighthawks movie (Stallone)
Melanie - Possibly Deceased - girlfriend of Dettling's. She was a former beauty queen and a former girlfriend of a 49er (She had a super bowl ring on her fireplace mantel). She worked as a barmaid at Los Altos Bar and Grill in the spring of 1992. (Tel circa 1992 408-737-8552) During the spring of 1993 when Dettling was in jail for 30 days on DUI, Melanie visited J-Ray in Jail. Melanie was J-Rays companion for extensive periods of time. She is believed to have been present during the retyping the Manifesto, and not known what he was actually doing. She would periodically talk and laugh about "Rays Crazy Typing". She gave him an oversized Mickey Mouse watch with a gold-circled watch face which he showed off prominently. Prior to that Dettling wore a watch with an eagle on the face (dark brown reddish wings with gold trim around the outstretched wings and gold tracing for feather lines) which may be agency related..
Possible Typing of Manifesto from Computer
Nighthawks movie (Stallone)
Alps Photo of Dettling and wife (Recording)
Dettling's Watch
A Terrorist Group called Fucking Cunts joke
Isopropyltrimethylmethane (Shit on Speed)
Red Haired Girl Another of Rays girlfriends caught in one of the surviving house photos with hair covering her face. She worked in a restaurant at the hilltop between San Jose and Santa Cruz (Right side at top going towards Santa Cruz). Photo 11
Nighthawks movie (Stallone)
Alps Photo of Dettling and wife (Recording)
A Terrorist Group called Fucking Cunts joke
Michelle -was a Girlfriend of Rays and is shown in Photos of the wooden gear party. Husband owned property in Saratoga. Bank Bar patron. Photo 03Photo 09 Photo 12
Smashing of Lamp with "Just Kidding"
Dettling's modeling of wigs as gay parody
Nighthawks movie (Stallone)
A Terrorist Group called Fucking Cunts joke
Road Hazard Bomb in Garage
Wooden Gear in Garage (Hren on Tape)
Shrapnel Damage in Band Room
The Alps Photo of Dettling and his wife
Dettling's modeling of wigs as gay parody
Murray, Gerald M -Overweight black guy in his early 40's of distinctly lower class origins and sudden wealth. Introduced by Marcus Bryant to Dettling. Murray was involved in an attempt to purchase house out of foreclosure. Papers may have been filed on the property with his name on them. Lived on the property with wife and child in the spring of 1992. Tony (shown in House Photo) was related to Gerald's "wife". Gerald had inspected the property closely on a number of occasions. Gerald started a business in Jan-Feb of 1992 as a barbeque ribs joint in San Jose. Social Service records may exist for the property for his wife who stayed there for a while.
Smashing of Lamp with "Just Kidding"
Road Hazard Bomb in Garage
Oxyacetylene Torch in Garage
Wooden Gear in Garage
A Terrorist Group called Fucking Cunts joke
Dettling's modeling of wigs as gay parody
Isopropyltrimethylmethane (Shit on Speed)
Anthony (Tony) - Believed to be related to Gerald's Wife (Photo 10 ?).Stayed on the property for about two months. Inspected the property extensively with Gerald. Photo 04Photo 06Photo 13
Smashing of Lamp with "Just Kidding"
Nighthawks movie (Stallone)
Road Hazard Bomb in Garage
Oxyacetylene Torch in Garage
Wooden Gear in Garage
A Terrorist Group called Fucking Cunts joke
Isopropyltrimethylmethane (Shit on Speed)
Marcus Bryant- Owner of computer shop in Saratoga next to Bank Bar. Long term associate of Dettling. Rarely visited the property. Often talked with Dettling. Seemed to go way back. Probable special relationship of significance, Strong indications of some kind of involvement in these affairs, among them, he used the name Kaczynski repeatedly one day in my presence, in a pointless manner. Background currently not researched. Drove a bright red Vet, shiny, new, expensive. Computer shop was small operation with very few customers, the economics did not make sense. Other indications. Affiliated for a time with MBBA 8040 Soquel Dr Aptos Ca (George Woodbury, Mike Norman). Middle initial may have been "J". Marcus visited Doug Gondor the evening before he was found dead according to his family, and despite an autopsy request, the body was immediately creamated in Grants Pass oregon.
House Guests at frequent large parties and Band Members Shrapnel in Band Room (Recording) A Terrorist Group called Fucking Cunts joke.
Peter Wu - Peter Wu was a patron of the Bank Bar and a friend of J Ray Detting's. A note was left with the Berkeley Bomb "Wu -- it works! I told you it would -- R.V.".. I would speculate it was simply included as an outrageous gesture, probably a reference to an obscure late night conversation. I have Id'd a photo I believe to be Peter Wu, however the Age and Data information appear to conflict with the Id. The background data is highly confused so I am withholding the photo for now.
Every US Senator on Judiciary - I intentionally used my web skills to target responsible individuals such as the members of the US Senate Judicary with the site. Unless you believe Senators never google thier own name, then they have no way of denying knowledge of the actual facts and events. These were still the early days of the internet, the Senator sites were actually pretty easy picking back then. For the first year I would frequently come in above the Senators site for searches on their name. I enjoyed that immensely, and watched almost daily as the shadow banning and other techniques were applied to remove it from view.
Google Itself ! - In my outrage at the turn of events I tried to purchase ads to force the issue and boost the site right in their face. Google rapidly began canceling ads the moment they appeared.

All Kaczynski's Defense laywers recieved packets with everything I knew a the time and followup phone calls. Only his initial Montana laywer responded, and he sounded dejected, dissillusioned, and scared to get involved, and readily acknowledged something was very wrong.
Every Reporter with multiple story's on the topic was contacted. David Johnston of the New York times recognizes my voice. Many, after a good brow beating, made indications that it was not their call, and that they knew without me telling them all was not right in the state Denmark, but none of these patriots fell on their sword, the mere trifle of not cashing a check overwhelmed their Patriotisim. Hope they find it as easy to live with once they know the true cost.
Russian Goverment After flight 900 went down with symptoms identical to those predicted by Commander Donaldson discussing possible effects of an offsized FC Pin (swoop and recover, again and crash), I walked into the Russian Consolate in NYC throwing a middle finger in the Air. I landed my entire packet of information on the Desk of some Russian intel bureaucrat straight out of a Grade B movie (rumpled suit, pot belly, chain smoking the whole nine yards:)).
Dozens of Postal Inspectors - In 2005 at the Election of Pope Benedict I got caught in a cameo on TV World Wide. I made a large postcard of it, and on the back, used half to display the Nathan R note graphic from the NY Times ("Penned by a Serial Bomber"), and my handwritten greeting on the other half right next to it. I mailed hundreds all over the country to everybody I could think of. They must have thought it a match ! It rang alarm bells all across the country and finally got me my one and only 302 Form (FBI Interview). The interview was held in the visitors booth at Liberty Mutual headquarters in Dover NH where I was working. To the utter shock of my on looking co-workers watching thru the glass, it degraded into my shouting and jabbing my pointing my finger right at them. They hadn't just murdered the random victims, they had murdered my friends and I was not about to take a crap about it. That was the last I heard of it.
British Government :)- During a vacation in London in 2008 I had tried to contact some people in London without success. Carrying a copy of the Site Poster folded around a CD became useless. As a personal "Good Luck charm", during a tour of Winston Churchill's wartime bunker in London I reached up and tucked it in the ceiling tile. As I left the bunker I saw a man in a great hurry headed into that area carrying a 3 foot grabber tool. The Poster was intended for a man named "Treavor" and had a letter that must have sounded kind of cryptic if you were not Treavor, and of course the handwriting matched. I went to a local pub next and got chatted up for hours up by a stunning and very smart british woman who suddenly appeared and who had great interest in me, a guy who looks like he got run over with a tow truck :).
All Oregon Eclipse Viewers - During the 2017 eclipse millions of people sat in traffic jams on desolate roads in remote Oregon. Along those roads I posted 600 three foot yard signs saying 'Unabombers.com - Learn about the lies'. Website logs show not a single web hit for at least 100 million advertising impressions. I was astounded at the degree to which attitude and attention control of the general population had achieved virtual total mastery. As the Big Summit Prarie festival was letting out with six hour traffic james I plastered the only road out, a narrow dirt lane, with 25 signs in six miles of forest. I sat at a lakeside stop at the end of the road, and surveyed people stopping for a break all day to see what effect it had, asking "What was the deal with all those Unabomber signs". I got a UNIVERSAL response of "What Signs?". I redrove the route the next day and the signs were still there. 15,000 people sat in a bumper to bumper traffic jam in wilderness forest for six hours with nothing to see but green forest and 25 large white letter on Red yard signs and not one saw it. I assume many during the bordom probably snapped photos of each other, probably producing thousands of images of the signs. It would be enlightening to have the opportunity to interview some of them with thier own pictures and see what turns up. At this point,.... You tell me whats happening here....
All Major Environmental Scientists beginning in Jan 2019 are receiving handwritten missives on the case. If they wish to make a plea for our survival, they truely need to understand, and be able to explain,... all this. Otherwise I suspect they will just feel puzzled at the pervasive inefficaciousness of their lifes persuits.
Greg X - Local property owner (Up the hill in Saratoga) who worked designing printer drivers for HP computers. Very knowledgeable, good memory talked extensively with Dettling. Long time local Resident.
Pete - son of the owner of a Mexican restaurant across from the Bank Bar in Saratoga Ca. During a party in the Band room one night Pete removed the large picture from the wall which covered most of the shrapnel, almost as if he new it was there or had some significance. The poster is mentioned in Jackie Millers call. Dettling was close to Pete's father Pedro, owner of the restaurant.
Chandra - Female of a lengthy personal relationship with Dettling before 1990 involved in a paternity suit with Dettling at one time.
Surnames Salmon, Scott, Wilson, and Flannigan are historically associated with Dettling's residence at 15297 Bohlman Rd. Saratoga California.
John Hurley, Saratoga - (Tel circa 1992 - 867-2901) -Friend of Dettling's
John Greenleaf - Friend of Dettling's
Tessie Ann Salmon - common law wife of Dettling - never met
A Dettling - Dettling's son with Tessie
N Dettling - Dettling's daughter with Tessie
Greg Devlin - Loan and investments officer for 1st Citizens Bank Polson Mt.-Associate of Sen Max Baucus who was sitting in a room with me the first time a graphic of the Nathan R note was shown on TV.
Sherry Matteucci- US Attorney for Montana - In response to Devlins reaction to viewing the note on TV with my handwriting sample in his hand, Baucus succeeded in getting Matteucci to issue a directive to the FBI (JR MacDonald-Helena) to investigate my charges. The directive was squashed and withdrawn at issuance, my interview with Matteucci was canceled without explanation.
JR MacDonald- FBI agent (Helena Mt.) took a number of calls from me after the initial report.
Detective Art Kirts -Sheriff #1227 Santa Clara Sheriffs office- He took the initial felony report that I filed because responses from the task force hotline did not accord with my expectations given the situation (Active Airliner Threat).
Marianne Luckiew, Polson Mt - Former Pa State Park Policewoman trained in interview techniques who spent many hours with me over several months eliciting recall on this subject in 1995-6. While my profession has trained me in memory recall (Software), her skills at interview recall techniques astounded me. Many important facts represented here were recalled in those interviews. A search for her name in Polson, Mt however returns no results, leading me to conclude, as I suspected at the time, that she was part of it and there to establish what I actually knew. Just before Kaczynski's arrest extensive "pole work" was done on the cable system outside, a "tv special" played shortly thereafter featuring extensive confimatory evidence, and I have never seen since, and have looked extensively.
The owner of the Bank Bar (Lenny) had extensive meritorious military service in WW2 with elite groups possibly including O.S.S.
One of the oddest coincidences you will ever see hangs (or did hang) over the Juke box in the Bank Bar (Sunset). It went up almost to the day the day the Nathan R note got delivered.
Joan Shotwell (Head Surgical Nurse Stamford Hospital (Aunt of SpaceX's Shotwell) Bill Cissna (Public Relations), Deb Frye (Police Dispatcher) are all former friends and associates who recognize the handwriting in the Nathan R note as being at least similar to their memory of my handwriting preceding the discovery of the Nathan R note.
I remember clear plastic tape of 2' width with white string embedded every 1/64ths of an inch along the length of the tape. I saw it on different "stuff". One box of the same shape as the VanPac box had the tape on ALL edges (i.e. the tape ran along the edges of the brown paper covered box with 1" on each side of the edge - i.e. folded over both the vertical and horizontal edges).
An individual lived above 15297 Bohlman Road on the right which Dettling seemed to regard as an important individual/Superior?
Bank Bar Patrons often talked about an unusual rate of freak fatal accidents among past patrons in the 80's. Given Lennies OSS background, and that both Dettling and Peter Wu were both patrons, this needs to be looked into.
Dettling was listed in Who's Who in Science and Engineering.
Dettling periodically wrote science fiction articles for High Tech Careers magazine in Silicon Valley
Dettling has a deep gravely voice similar to the description of a caller's voice claiming to be the Unabomber. (see also: Penthouse call). The calls were predicted by Ed Gleba, a spokesman for the Bureau of Alcohol, Tobacco and Firearms in San Francisco one week before the calls were received.. News Stories were written about the prediction, then more about the message, then stories about the prediction being correct etc. It is noteworthy that the call and voice description were released, but the voice message recording has never been released to the public.
Unabomber NASA intersects Patent Sketch (Very Curious - Email explanation seems "too cute")
Task Force members expressed an strong interest in Cast Aluminum. The FC Pin in the desk drawer appeared to be of cast aluminum and may have been the cause of the inquiry ?
The VanPac box on Dettling's desk was addressed to a Judge but I can not identify the name. At one point, wondering why Dettling had not mailed his package, I leaned over to look at the address. While I can not identify the name on the box, I can recall looking around at my surroundings and thinking that it made sense that the owner would be communicating with a person of the status of a Judge. I assumed that it must have been related to one of his inventions, and went about my work on the computer. It was a southern address, which surprised me a little, as I had thought there was a specialized Patent Judiciary that was based in Washington DC.
The Wooden gear was featured in a television special on Unabomber evidence shortly after Kaczynski's arrest. I have been able to find no other specific reference to it since, which I find curious, however there are several references of a similar pattern. I viewed the special on cable during a period when I was attempting to report details of the case from a very remote location to an increasingly hostile FBI. There had been extensive work on the Cable system directly outside my location in the weeks before, although there were never any problems with the cable I was aware of, nor subsequent changes in service. (Ref: Luckiew).
The Gelernter switch is made out of a hollowed out block of wood that matches the floor wood blocks in the front game room above the pool on Bohlman Road. I suspect a number of elements from the devices such as green panel nails, wires etc may be present in the construction of 15297 Bohlman Rd (Just a Guess). Construction used a number of eccentric, pricey things such as copper nails on finish wood.
Speculatively, could the source of the green high explosive primer powder used in several devices be MB Associates?
Dettling's Car was a rare model which I have not been able to find on the internet so far. It was identical to the one which Le Duc Tho used at the Paris Peace accords. I believe he said it was the first example of independent something or other (air suspension) ? Please email if name make and model known.
The garage contained several 1" round wooden dowels with machine cut groves on both sides which resided near the black painted cardboard box towards the garage door on the kitchen side of the blue tarp covered mound. The groves were deep straight sided pizza shaped groves. One dowel of approximately 2 feet in length had a T shaped contraption at the end of the dowel constructed of 2 pieces of wood (1"x1/4" x8"). Bare stiff silver-colored solid thin wires went down the groves and threaded through the T contraption at the end. Small wheels possibly of wood adorned the two outer ends of the T piece. Note: The length exceeded the descriptions of most of the bombs.
One evening while waiting Rays old Mac2 to compile an index, I was examining the stamps in the Desk Drawer out of boredom. Upon noticing Yosemite on the stamps I realized I was only hours away and thereupon decided to (and later did) take a short vacation to see Yosemite. This was of great assistance in solidly identifying the stamps as issue #2280.
Note: It is my intention to take an additional polygraph exam on the clarity of my recognition of the Gelernter switch in the near future given the importance of the issue...and I fully anticipate passing it (3/1/2001).
The garage contained a dark square metal plate (2"x2"x1/4") with a lighter colored thin pencil width rod vertically welded to its the center. This seems to match the Endplate design in the VanPac devices.
My knowledge of the details of the Firestick incident in New York is from a conversation with one of the officers who actually handled the incident. During the time when I worked in New York I frequented a pub on 8th and 34th (opposite the Y) which was also a regular stop of the Midtown Police department. During a visit to New York/Stamford Hospital in early 94 or 95, by odd coincidence, an officer I knew and occasionally drank/traded stories with and often defeated at pool :) told me of the incident, describing the device in detail. (Great stories). Eight months later, I first learned I was involved in Unabom, years later I figured out what the photo actually depicted. In the melee following flight 990 in 1999, I again returned to 8th & 33rd/34th and completed the circle. At the time I was hysterical thinking that "Dettling did it" and those bodies in the sea were my failure to get my reports heard. The photo of me and Dettling holding the Firestick created a sensation among the officers who were familiar with the incident. One was an actual responder and he recognized it. I was told to wait, and a high ranking superior, suit, in his 50's, came to the bar immediately to get it. That was the last I heard of it. Life is indeed strange at times. I can not recall the name of the officer I used to enjoy trading stories with, but many of his stories were about "Taking back the street" when he came on duty in the area around Madison Square Garden. Sure hope he survived 9/11.
The Task force assigned event numbers to Unabomber case reports. My Event#'s were 09264 and 10606.
Every assigned federal defender got a copy of the Polygraphs and a statement. They all ignored it, they didn't even return my calls or attempt to contact Hren or anyone else to confirm my accounts.
This Download Full Site includes a copy of every Unabomber and VanPac Newspaper article published (labeled and ranked) and a number of other useful files and Details including large files of all photographs.