MITCHELL PAIGE
Platoon Sergeant
United States Marine Corps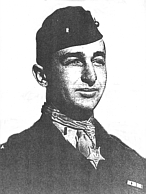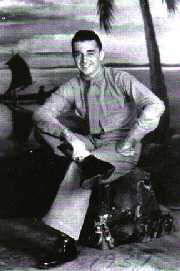 Mitchell Paige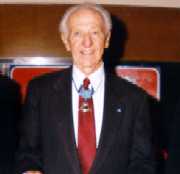 Mitchell Paige
Citation
Platoon Sergeant Mitchell Paige
United States Marine Corps
For extraordinary heroism and conspicuous gallantry in action above and beyond the call of duty while serving with the Second Battalion, Seventh Marines, First Marine Division, in combat against enemy Japanese forces in the Solomon Islands Area on October 26, 1942. When the enemy broke through the line directly in front of his position, Platoon Sergeant Paige, commanding a machine-gun section with fearless determination, continued to direct fire of his gunners until all of his men were either killed or wounded. Alone, against the deadly hail of Japanese shells, he manned his gun, and when it was destroyed, took over another, moving from gun to gun, never ceasing his withering fire against the advancing hordes until reinforcements finally arrived. Then, forming a new line, he dauntlessly and aggressively led a bayonet charge, driving the enemy back and preventing a break through in our lines. His great personal valor and unyielding devotion to duty were in keeping with the highest traditions of the United States Naval Service.
Franklin D. Roosevelt
President of the United States
Footnote:
Colonel Mitchell Paige
United States Marine Corps, Retired
Colonel Mitchell Paige was born in Charleroi, Pennsylvania, August 31, 1918. He enlisted in the Marine Corps September 1, 1936 and went to recruit training at Parris Island, South Carolina.
He is the sole surviving Medal of Honor recipient from the ground battle for Guadalcanal, America's first ground offensive of WWII.
He has held practically every rank and assignment in a Marine Corps Infantry battalion from private to commanding officer. He received a Field Commission from Platoon Sergeant to Second Lieutenant at Guadalcanal, Decemberl 9,1942. Col. Paige completed a four year college equivalency in the Marine Corps. He was the director for all Marine Corps Schools in Japan 1954.
He attended the Amphibious Warfare School, Quantico, Virginia and the Army Language School, Presidio of Monterey, California.
His field experience has taken him to the Philippines, China, Cuba,
Guadalcanal, Soloman Islands, New guinea, Cape Gloucester, New Britain Island, Pavuvu, Russell Islands, Japan, Korea, and Vietnam.
After retirement July 1, 1 964, he researched and developed miniature rockets, miniature rocket weapons systems, penetration aids, and hypervelocity acceleration. He assisted in the design and development of a four-inch rocket launcher capable of firing 13mm gyro-jet flares, smoke, radar chaff and explosive rounds while working at MB Associates, Science and Rocketfy, San Ramon, California. He used the 13mm hand gun and 13mm Foliage Penetrating Signal Distress Kit in combat in Vietnam in 1967, with orders from President Johnson. He was involved in research and development of air-inflated devices and related recovery equipment. He invented the"TUPIT"(The Universal Paige Inflatable Tent) which he donated to the Army laboratories in Natick, Mass. Author of an autobiography "A Marine Named Mitch" published inl 975. He is a member of: The Congressional Medal of Honor Society of the US, Army andNavyLegionofValoroftheUS, MilitaryOrderofthePurpleHeartofthe US, PastpresidentofTheFirstMarineDivisionAssociation, MarineCorps League, BritishRoyalMafines, GuadalcanalCampaignVeterans, National OrderofBattlefieldCommissions, DisabledAmericanVeterans, TheAmerican Legion, AMVETS, VFW, Naval order of The United States, and The Mafine Corps Mustang Association.
He has been speaker to numerous civilian and military groups since WWII. He was "Special Ambassador", representing the president, with The US State Department in The Solomons, at the 1 Oth anniversary celebrating Guadalcanal's independence.
He is the liaison officer from The Congressional Medal of Honor Society to the FBI and works with an assigned Special Agent exposing MOH imposters. He was Marine, "GI Joe" Action Figure (WWII) ... produced in 1998 by Hasbro Toy Company. He is a member of California State Governors "Blue Ribbon Task Force" on veterans.
He is the recipient of numerous awards and letters of commendation from the government, civic and fraternal organizations.
Col. Paige currently resides in La Quinta, California with his wife, Marilyn.


Return to Top of Page

Return to Main Page